Distance Learning
Pathology and Disease
is an on-line distance learning course written by Dr Stephen Gascoigne
A study guide accompanies The Clinical Medicine Guide – A Holistic Perspective. Look at our online distance learning area for further information and available courses.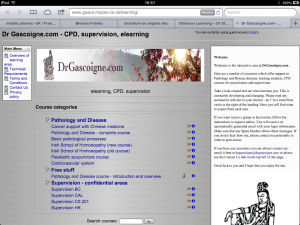 This is a full 250 hour course and is the recommended course of study at a number of colleges in the UK, Ireland and further afield. It meets all the criteria laid down by the relevant colleges and accrediting bodies. The course enables you to study this subject at your own pace with support by a tutor, feedback from self-assessment questions and written assignments.
This study guide is now delivered on-line and has been used by the Honours degree course in herbal medicine at University of East London as well as by their acupuncture course. It is the preferred method of delivery at the Irish School of Herbal Medicine and the Irish School of Homoeopathy.
If you are a college with a regular intake of students, please contact me to discuss your individual requirements. I am happy to individually tailor the course to meet your needs.
In addition, specific extracts from the study guide have been modified to be delivered on-line. These can be used for Continuing Practitioner Development (CPD) and upon successful completion, you will be given a certificate for use with your registration body.
How it works:
You are guided through the textbook (The Clinical Medicine Guide – A Holistic Perspective) step by step with additional clarification, video clips, audio files, and slide presentations.
In addition to the main topics of study, there are assignment questions which will add further life to the subjects discussed, and will involve you in practical research of later benefit to you as a practitioner. Full marking of these assignments is provided, with expert tutor feedback and support, and a certificate on completion.
A unique feature of this on-line course is that you have access to myself, Dr Stephen Gascoigne, as your tutor. So, you can discuss your questions with me, clarify any confusions and talk about cases which will enliven and illustrate the topic being studied.
Links:
On-line courses and individual CPD modules here. Click on 'Log in as guest' and see what interests you!